Quest for the Golden Rule
K-5 Evidence Based Bullying Prevention & Character Development
Web-based interactive games
Build caring, engaged school communities using interactive web-based modules, with our award winning Wisdom Stories.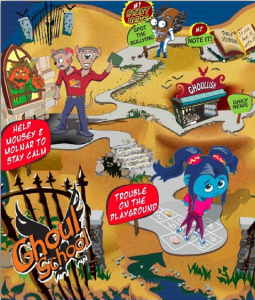 The Quest for the Golden Rule with Wisdom Stories is a comprehensive web-based library of activities to teach bully prevention and character development. Each section is complete with downloadable lessons plans. Children actively engage online characters to learn the skills necessary to recognize and avoid bullying, and then produce fun writing and art assignments to show off their new understandings, all within the program.
Teachers can simply integrate multi-cultural education, character education, and bullying prevention, into ELA Common Core.
Students, teachers, and parents alike, benefit from the positive behavior change, positive classroom climate, and exercises which develop deep listening, critical thinking, and writing skills.
Click icon to watch our brief demo video. 
For more information or to purchase, click here.
To schedule a talk or professional development workshop contact Ralph Singh, Wisdom Thinkers Chair at  Ralph@wisdomthinkers.org.