Character Education
SEL – Pro-social Education – Call it what you want – We provide resources for the "missing links" to help our children pass the tests of life. seamlessly embedded into CCS
Character Development and Anti-Bullying Resources for Elementary Schools
Honor Diversity, Nurture Character, Prevent Bullying
Stories to Light Our Way: Wisdom Stories for Character Development
A set of narrated stories form 11 different traditions, with a study guide that allows teachers to easily integrate them into their normal class flow.

To listen to a story and view sample study guide pages, click here.
Quest for the Golden Rule

(in partnership with Practi-quest)
A set of web-based interactive anti-bullying games in cartoon form that explore various bullying behaviors and healthy responses. This format also includes a web-based version of the Wisdom Stories.
To learn more and view an online demo video of the product, click here.
Have A Question? Contact Us Today!
Quest for the Golden Rule
– web-based anti-bullying simulation games – Grades (2-6)
Testimonial – Grace C S

Quest for the Golden Rule – Bark Academy, second-grade anti-bullying games

Some of our students were struggling with making friends, and the program addressed this explicitly. It provided a good basis for discussion, and the kids loved it and said it was fun! If two students were not getting along, I was able to refer back to Bark Academy–when someone treats you disrespectfully, it is still in your best interest to treat the person respectfully….and ask an adult for help.

> We've seen a positive change in behavior while easily using the simulations to improve both literacy and listening skills. 2nd Grade NAES school teacher
Testimonials – current
"Students showed excellent participation and cooperation in finding materials for bulletin board activities. These stories are permeating across many disciplines – it is taking on a life of its own. 

Teachers look for different ways to address personal moral issues."
Jackie Hobbs
"Stories are told in a way that students actually stop and listen and are drawn in by the story. I can get a room of over 200 students to listen quietly and then reflect on the story."
Dori Hathway
 Fulton City School District added 4 new photos.
November 6 at 2:19pm · https://www.facebook.com/FultonCitySchoolDistrict/
Today Mrs. Crisafulli's English 10 students helped Granby Elementary students build character and foster a more caring and compassionate society by sharing stories and lessons about courage, caring, forgiveness and friendship from the Wisdom Thinkers Network.
Middle School
Stories to Light Our Way – middle school teacher's edition – lesson plans grade 5-8
COVER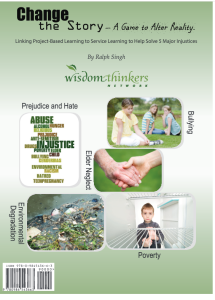 Middle and High school – link Project based learning – ideal framework for the social studies inquiry-based model
Change the Story: A Game to Alter Reality – combining project based learning with student-driven service learning projects to help solve 5 major injustices –
Professional development
–
half-day or full day sessions to help teachers seamlessly embed stories and narrative in CCS ELA with cross-curricular and ELL/special needs adaptations to create a school climate that nurtures character, honors diversity, and discourages bullying. We can also offer brief orientation sessions depending on your needs.
Our training sessions are aidable under Co-ser 533 "School Improvement" through CiTi (Oswego County Boces)
N.B. if you are an educator using Stories to Light Our Way or any of our other products please register for our private Educators Facebook page where teachers are posting comments, pictures, and ideas on how they are using the materials
Look for an announcement of our Google hang-out for regular live chats with Ralph Singh.
We are also developing distance learning modules, especially with the winter soon upon us.